Federation of Q/FE Qualified/ Forensic Experts & Examiners FORM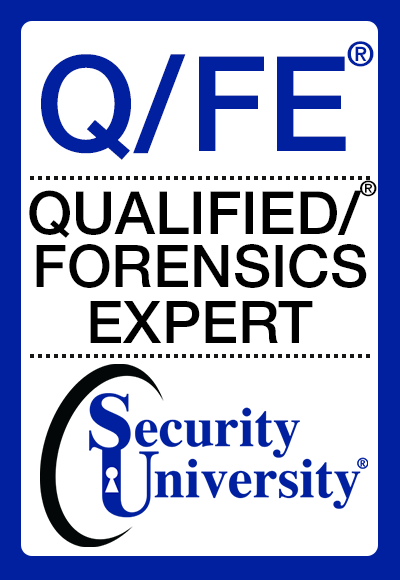 Security University's Federation of Q/FE Qualified/ Forensic Experts & Examiners is dedicated to expanding our network of Q/ FE's and the exchange of forensic & security information and ideas.
Q/FE Requirements
In order to complete the Q/FE Qualification process, the applicant must:
Have no criminal record
Meet minimum experience, training or self training requirements
Abide by the Qualification ' s code of ethical standards
Successfully perform actual forensics examinations on three test media
An 70% or better on online Q/FE Qualified Forensic Expert ® Qualification exam
Complete the Practicum ( " Practical " lab) process – 90 day maximum. Not accepted after 90 days.
Federation of Qualified/ Forensic Experts® Code of Ethics & Professional Standards for Members
---
Each member agrees to conduct themselves with honesty, integrity, and impartiality in all matters associated with the Q/FE certification process and all examinations involving digital forensics, using established and validated principles.
Each member shall strive to maintain objectivity with the highest of professional standards, and never engage in any unethical or illegal conduct.
All members have the responsibility to maintain the integrity of the Q/FE.
All members must recognize and adhere to confidentiality and attorney/client privilege.
No member will misrepresent training, credentials or association membership, nor show bias or prejudice in findings or examinations.
Each member will never knowingly undertake an assignment beyond his/her skills.
Each member will work diligently to obtain evidence and or documentation that will establish a reasonable basis for any opinions presented, and examine all evidence in a case unless the scope of the examination is limited by court order, warrant or other court mandate.
Each member agrees to comply with all legal instructions of the courts.
Each member agrees to testify truthfully in any proceeding, and maintain the utmost objectivity in all testimony regarding forensic examinations.
Each member shall avoid any action that would appear to be a conflict of interest.
All members shall have no criminal record, nor any substantiated accusation of moral turpitude.
Any applicant or member who becomes aware of any violation of the Code of Ethics & Professional Standards for Members is obligated to report same to the Director's Office.
All applicants are responsible for their submittals for certification, and shall not collaborate with any other person, form or join any discussion groups, or otherwise circumvent the requirements for individual responsibility during the certification process.
The Federation of Qualified/ Forensic Experts® and Q/FE® are trademarked and may not be used without the specific written permission of the Federation. Any violation of this provision shall result in immediate suspension from the certification process, revocation of any certification received and the forfeiture of any fees.