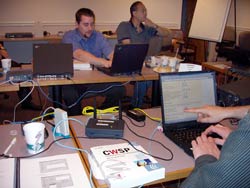 This  SU course targets experienced networking professionals who wish to gain critical skills in wireless networking security, including how hackers attack networks and the means for preventing them from doing so. This multi- course prepares you for the Q/WP & Q/WSP exams as well as testing for the CWNA™  & CWSP™ Exams.
SU's Qualified Wireless Professional & Wireless Security Professional Bootcamp course consists of hands on learning using the latest enterprise wireless LAN security and wireless auditing equipment.  This 144 hour course bootcamp drills into Wireless LAN Administration and Wireless Security course addresses in detail the most up-to-date WLAN intrusion and DoS tools and techniques, functionality of the 802.11i amendment to the 802.11 standard, the inner-workings of each EAP type used with wireless LANs today, and every class and type of WLAN security solution available on the market - from wireless intrusion prevention systems to wireless network management systems.
With the burgeoning growth of wireless LAN installations, all IT professionals must become knowledgeable about security, wireless security in particular. Q/WSP™ WLAN Security, the preparation course for the CWSP™ certification, teaches students the necessary skills for implementing and managing wireless security in the enterprise by creating layer2 and layer3 hardware and software solutions with tools from industry leading manufacturers.
This hands-on, defense in-depth class has 15+ labs to give you the chance to use wireless products from vendors. Our expert instructors take you through everything you need to know to do a proper wireless site survey, design and implement a WLAN and will advance into the crucial aspects of hacking and testing vulnerabilities on your wireless networks showing you security threats and weaknesses of wireless LANs. And 4 top wireless analysis tool labs. Q/WP™ is the top ranking Hands-on Wireless Professional Certification today. A vendor-neutral certification that requires mastery of Wireless fundamentals. By earning both the Q/WP™ & Q/WSP™ credentials, network engineers and administrators demonstrate that they have the skills necessary to administer, install, configure and troubleshoot wireless network systems.
| | |
| --- | --- |
| Class Fee: | $4,690 for both classes |
| Time: | 144 hrs |
| Learning Level: | Entry |
| Contact Hours: | 64 hr Lecture 68 hr labs |
| Prerequisites: | Understanding of TCP/IP Protocols |
| Credits: | 144 CPE / 3 CEU |
| Method of Delivery: | Residential (100% face-to-face) or Hybrid |
| Instructor: | TBD |
| Method of Evaluation: | 95 % attendance 2. 100 % completion of Lab |
| Grading: | Pass = Attendance+ labs & quizzes Fail > 95% Attendance |
Sample Job Titles:
Information Systems Security Engineer
Intrusion Detection System (IDS) Administrator
Intrusion Detection System (IDS) Engineer
Intrusion Detection System (IDS) Technician
Network Administrator/Network Analyst
Network Security Engineer/Network Security Specialist
Security Analyst/ Security Engineer
Security Specialist/ Systems Security Engineer

This 72 hour accelerated class is taught using face to face modality or hybrid modality. Class includes 72 hours of contact studies, labs, reading assignments and final exam - passing the final exam is a requirement for graduation.
Learning objectives
-  Ownership concepts
-  Wireless security policy creation and alignment
-  Wireless design and control methods
-  Return on investment strategies and methods
-  Automated tools and management strategies
KU Outcomes
Knowledge of wireless risk management processes (e.g., methods for assessing and mitigating risk).
Students will be able to plan, organize and perform wireless penetration testing on a simple network.
Students will be able to analyze wireless system components and determine how they will interact in a composed system.
Students will be able to analyze a wireless system design and determine if the design will meet the system security requirements
CLICK TO ROLL DOWN OUR CLASS SYLLABUS