Q/FE® Qualified/ Forensic Expert Certification and Q/FE Exam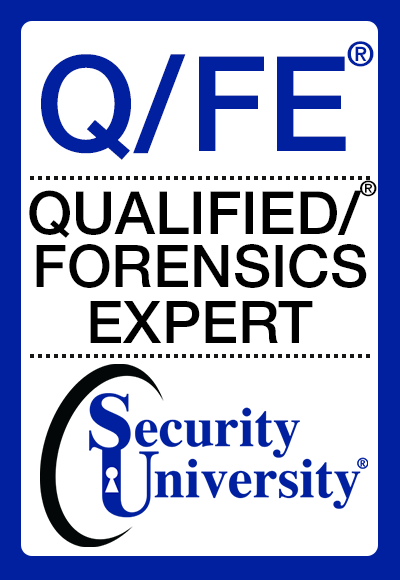 Finally, a tactical Forensics class that provides everything you need to know to be a Qualified/ Forensic Expert with an online exam at the end of the week and a practical validation workshop to prove your forensic skills. Learn everything relating to computer forensics & digital forensics rights. From how to establish a proper chain of custody that is admissible in a court of law to recovering files from intentionally damaged media.
Cyber crime is out performing traditional crime. Qualified/ Forensics Experts are needed by today's companies to determine the root cause of a hacker attack, collect evidence legally admissible in court, and protect corporate assets and reputation.
High-profile cases of corporate malfeasance have elevated electronic evidence discovery as indispensable to your company. A recent law review claims: A lawyer or legal team without a Forensic Expert on their case is sure to lose in today's courtroom!
Learn more about SU's Federation of Q/FE's Qualified/ Forensic Experts & Examiners
In our Q/FE® Qualified Forensics Expert Training class, you will:
Discover the cause of how computer crimes are committed.
Learn how to find traces of illegal or illicit activities left on disk with forensics tools and manual techniques.
Learn how to recover data intentionally destroyed or hidden.
How to recover encrypted data.
Steps to collect evidence from hard drives and live systems.
How to recover data from digital camera's and cell phones.
You will create an effective computer crime policy, and gain the hands on skills to implement it.
After attending Q/FE™ Qualified Forensics Expert Training, you will leave with a custom Forensics Expert toolkit that will enable you to perform a legally admissible forensics investigation and the tactical forensic and security skills to run a proper investigation.
This hands-on computer forensics training offers practical experience in a wide array of computer forensics situations that are applicable to the real world.
What is "Qualified"
The Q/ISP Certification is obtained through Security University for the purpose of recognizing qualified individuals who have distinguished themselves as knowledgeable and proficient information security practitioners with validated hands-on tactical security skills. The Q/ISP certificate also provides THE only means of identifying and certifying qualified persons who subscribe to a rigorous requirement for maintaining their knowledge and proficiency in information security with "validated" their hands-on tactical security skills.
Certification is awarded to those qualified individuals who validate their security skills to a prescribed qualified level of tactical hands-on information security experience, comply with a professional code of ethics, and pass rigorous examinations on the Q/ISP Body of Knowledge for information security. In order to maintain currency in the field, each Q/ISP must complete participation in research or study, attendance at recognized subject-matter training and professional educational programs, presentation or publication of information security papers, contributions to the information security Q/ISP Body of Knowledge, or service in professional organizations. Each Q/ISP must acquire 120 CPE continuing professional education credits every three years. (40 credits per year)
In order to use a Qualified Q/ISP Trustmark the Q/ISP has validated their tactical security skills by completing the Tactical Security Certification Practical's from the Q/PTL, Q/FE & Q/ND classes.
What is a Q/ISP "Qualified" Information Security Professional?
A Q/ISP is a person who has successfully passed Security University's Q/ISP online 125 question certification exam. The Q/ISP certification does not require you to attend any classes.
A "Qualified" Q/ISP is a person that has an attained 4 SU Education Certifications from attending each of the 4 Q/ISP classes that validate tactical security skills - Q/EH, Q/SA with Q/PTL, Q/ND & Q/FE classes with hands-on labs and online exams.
Prior to 2008, if you attended Security University's EC-Council Authorized CEH™, ECSA™, CHFI™ classes and passed the exams you are eligible for the Q/ISP Qualified Education Certifications.
Customize your Q/SA - Q/PTL training program today!
Qualified Training Qualified Results
Class Fee
$2,995
Time:
7:45am -5 pm
Location:
Click here to view the class schedule
Prerequisites:
Understanding of TCPIP Protocols
CPE Credits:
40
Instructor
Highly qualified instructor with
ECC, CEH™ /Q/EH, ECSA™/ Q/SA, CHFI™/ Q/FE, Texts, Practice Tests, EXAM on the last afternoon of class.
Download the SU class RoadMap
Class outline of Tactical Forensics Skills necessary to respond to security incidents:
Overview of Computer Crime
Preparing sterile examination media
Acquisition, collection and seizure of magnetic media.
Documenting a "Chain of Custody"
Windows and DOS forensics
Working with NTFS
Combing Partition table and boot record
Investigating The Master File Table (MFT)
Open source Forensics tools
Investigating alternate data streams
File storage dates and times
File deletion/recovery
Recovering Internet Usage Data
Recovering: Swap Files/Temporary Files/Cache Files
Preservation and safe handling of original media
Making bitstream copies of original media
Common data hiding techniques
Linux/Unix computer forensics
Examining CD-ROM media
Carving out files "hidden" in unallocated disk space
Unlocking Password Protected Files
Recovering deleted data from a cell phone
Digital Camera Computer Forensics
Smart phone / tablet Computer Forensics
Issues when presenting data in court
The marking, storage and transmittal of evidence.
Use tools from Encase Forensic Edition, X-Ways Forensic Addition, Forensic TookKit (FTK), Linux dd, etc.
Real World Case Studies
Theft of Intellectual Property
Embezzlement
Employment disputes
Destruction / alteration of data
E-mail misuse
Course Includes 30 day free License of NUIX Tools
Students use the FTK suite is the premier software package for computer forensic analysis. All students are given the option of including FTK with their student registration. Contact us for more details about this program.
Required Prerequisites: Firm understanding of the Windows Operating System
Attendees can be:
IT managers, network administrators, Windows administrators.
Police and other law enforcement personnel
Defense and Military personnel
e-Business Security professionals
Systems administrators
Legal professionals
Banking, Insurance and other professionals
Government agencies
Desire for computer forensics training
Federation of Qualified/ Forensic Experts® Code of Ethics & Professional Standards for Members
Each member agrees to conduct themselves with honesty, integrity, and impartiality in all matters associated with the Q/FE certification process and all examinations involving digital forensics, using established and validated principles.
Each member shall strive to maintain objectivity with the highest of professional standards, and never engage in any unethical or illegal conduct.
All members have the responsibility to maintain the integrity of the Q/FE.
All members must recognize and adhere to confidentiality and attorney/client privilege.
No member will misrepresent training, credentials or association membership, nor show bias or prejudice in findings or examinations.
Each member will never knowingly undertake an assignment beyond his/her skills.
Each member will work diligently to obtain evidence and or documentation that will establish a reasonable basis for any opinions presented, and examine all evidence in a case unless the scope of the examination is limited by court order, warrant or other court mandate.
Each member agrees to comply with all legal instructions of the courts.
Each member agrees to testify truthfully in any proceeding, and maintain the utmost objectivity in all testimony regarding forensic examinations.
Each member shall avoid any action that would appear to be a conflict of interest.
All members shall have no criminal record, nor any substantiated accusation of moral turpitude.
Any applicant or member who becomes aware of any violation of the Code of Ethics & Professional Standards for Members is obligated to report same to the Director's Office.
All applicants are responsible for their submittals for certification, and shall not collaborate with any other person, form or join any discussion groups, or otherwise circumvent the requirements for individual responsibility during the certification process.
The Federation of Qualified/ Forensic Experts® and Q/FE® are trademarked and may not be used without the specific written permission of the Federation. Any violation of this provision shall result in immediate suspension from the certification process, revocation of any certification received and the forfeiture of any fees.
Legal Notice:
The CHFI® Certification is provided exclusively by EC-Council® and its ATC's, Security University is not sponsored by, approved by, or affiliated in any way with EC-Council®.